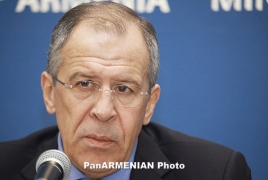 April 20, 2016 - 13:59 AMT
PanARMENIAN.Net - Russian Foreign Minister Sergey Lavrov will arrive in Yerevan on April 21-22 to discuss the Nagorno Karabakh conflict settlement with the Armenian authorities.
Russia's top diplomat, however, will be met with a protest rally, dubbed "Hands off Artsakh: Demand-March for Dignity."
The march will start at 6:30 pm, April 21 at the Freedom Square and progress towards the Foreign Ministry and the Russian Embassy.
According to the initiators of the march, the participants will submit their claims, based on Azerbaijan's aggression and war crimes perpetrated against Karabakh, especially in view of the four-day clashes on the contact line.
"Armenia and Artsakh won't cede even an inch of land to Azerbaijan," their message reads. "Nagorno Karabakh Defense Army has been and will always be the only protector of Artsakh, while international peacekeepers should be deployed in Azerbaijan to protect the indigenous peoples."
According to the statement, the international community should ensure the Armenian refugees' safe return to the Armenian regions, occupied by Azerbaijan.
"We demand the recognition of Karabakh's independence under international law and insist that Russia stop providing Azerbaijan with the most advanced military equipment that will further be used against Armenia and Karabakh," the statement goes on to say.
On the night of April 1-2, Azerbaijani armed forces initiated overt offensive operations in the southern, southeastern and northeastern directions of the line of contact with Nagorno Karabakh.
The Armenian side has suffered 77 combat and 15 non-combat losses, 122 more were wounded. One soldier is still missing.
The Azerbaijani side has lost 26 tanks and 4 infantry fighting vehicles, as well as 1 BM-21 Grad multipl e rocket launcher, 1 engineering vehicle, 2 military helicopters and 14 unmanned aerial vehicles. The Azerbaijani side has admitted the loss of 31 fighters, 1 helicopter and 1 unmanned drone, whereas the Armenian side's photo and video materials show dozens of killed Azerbaijani troops, 1 helicopter and 3 UAVs. Opposition media outlets, however, reported on the death of 95 Azerbaijani soldiers, stating that 39 more have been wounded. According to Karabakh authorities, 300 Azerbaijani soldiers were killed in clashes.
14 Karabakh tanks have been neutralized since April 2.
The parties to the conflict agreed on a bilateral cessation of fire along the contact line which came into force at midday, April 5.
Read also:Putin wants return of "some areas" to Baku, Karabakh referendum: media