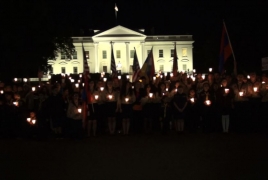 April 24, 2016 - 13:56 AMT
PanARMENIAN.Net - The annual Armenian Genocide commemoration took place on Friday, April 22 at the Alex Theatre in Glendale, California, LA Times reports.
During Glendale's 15th commemoration, Mayor Paula Devine said the city "has long stood with the Armenian community, and I'm proud to stand with you this evening."
Councilman Ara Najarian, who has attended 12 of Glendale's genocide remembrance events, served as the keynote speaker and used the occasion to talk about the origins of the Genocide, LA Times says.
The evening also featured a performance by the Djanbazian Dance Academy, the classical modern dance company based in La Crescenta, and music from Ara Dabandijan and Soseh Aramouni, both of Element Band.
Also joining the Armenian Genocide commemoration was Boston, where a prayer service was held on Saturday, April 23, The Bsoton Globe says.
Cardinal Sean P. O'Malley led the ecumenical service that marked the first time the Archdiocese of Boston has formally commemorated the genocide that killed 1.5 million people.
Besides, the Armenian community of Washington, D.C. organized a host of marches and other events to mark the Genocide anniversary and draw the U.S. administration's attention to this most important cause.
A candlelight vigil was organized in front of the White House.
A divine liturgy in memory of the victims of the Genocide will further be served on April 24.