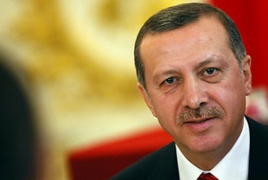 April 24, 2016 - 15:17 AMT
PanARMENIAN.Net - Turkish President Recep Tayyip Erdogan on Sunday, April 24 commemorated the lives of Armenians lost in the Genocide of 1915, citing the massacres as "tragic conditions" of the war.
The statement was read out by the head of the Armenian church in Turkey at an Istanbul ceremony to remember those who died in the early years of World War I, Anadolu Agency reports.
"I welcome this commemoration which is taking place once again in Turkey to share the grief endured by the Ottoman Armenians, as well as to honor their memories," he said.
Erdogan said the near 1,000-year-old "culture of cohabitation between Turks and Armenians" would always be remembered.
"I honor the Ottoman Armenians who passed away and extend my condolences to their children and grandchildren," he added in the statement, read by Patriarch Aram Ateshyan.
The president went on the pay tribute to all Ottoman citizens "regardless of their ethnic or religious origins" who lost their lives.