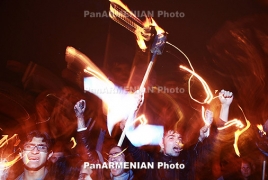 April 25, 2016 - 10:34 AMT
PanARMENIAN.Net - A series of events were held in different parts of Norway on Sunday, April 24 to commemorate the 101st year of the Armenian Genocide.
Following the established tradition, Armenians and friends of Armenia in greater Oslo area gathered at great Norwegian humanist and committed friend of Armenians, Fridtjof Nansen's grave to pay homage to the great man and remember the victims of the Armenian Genocide. Nansen's grave has become a unique sanctuary and a memorial for the Genocide. Flowers were laid, followed by beautiful tunes of duduk. Nansen's granddaughter and grand granddaughter were among the attendees.
Armenians of Bergen, the second biggest city of Norway, following their own established annual tradition, assembled at the Armenian Khachkar, a cross-stone dedicated to the memory of victims of the Armenian Genocide and to Fridtjof Nansen, located at Rekstensamlingene.
Earlier on Sunday, Armenians in the Southwest of Norway gathered at the memorial of Bodil Katarina Biorn, another great Norwegian, a missionary, a devoted friend of Armenians, eyewitness of the Genocide and caretaker of many Armenian orphans. Kragero community is the first community in Norway to officially recognize the Armenian Genocide. Kragero was home to the great Norwegian humanist.
A host of events and initiatives commemorating the Armenian Genocide were held around the world on Sunday.