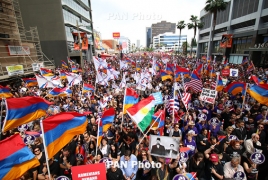 April 25, 2016 - 10:50 AMT
PanARMENIAN.Net - Tens of thousands of protesters rallied outside the Turkish Consulate on Wilshire Boulevard, Los Angeles on Sunday, April 24 afternoon, waving flags and holding signs to commemorate the 101st anniversary of the Armenian Genocide, Los Angeles Times reports.
Dressed in purple and black shirts scrawled with messages calling for justice, the activists demanded reparations. Los Angeles police estimated the crowd at 60,000.
"Get your hands off our land!" they chanted.
"Eastern Turkey is Western Armenia!"
"Today, we are all Armenian," said U.S. Rep. Adam Schiff as he addressed the crowd from the stage. "We have one cause and that cause is justice."
The crowd, filled with protesters of all ages, roared in agreement. Some carried their children on their shoulders, using the day to teach them about their history.
Nora Hovsepian, chair of the western region of the Armenian National Committee of America, said Armenian people will continue to gather each year until the genocide, which began in 1915 and resulted in the death of as many as 1.5 million Armenians, is recognized by Turkey and the U.S.
Southern California is home to the largest Armenian community outside of Armenia, with Los Angeles seen as a kind of Armenian cultural mecca. More than 200,000 people of Armenian descent live in Los Angeles County, LA Times said citing U.S. census data.
Last year, officials designated the intersection of Hollywood Boulevard and Western Avenue as Armenian Genocide Memorial Square, an area that is part of Little Armenia. And in March, Glendale Unified became the first school district in the country to establish a day in remembrance of the Genocide.