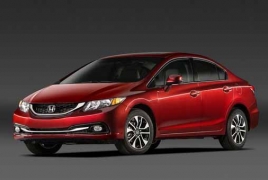 May 13, 2016 - 16:51 AMT
PanARMENIAN.Net - Honda said Friday, May 13 it would recall millions more cars equipped with airbags made by crisis-hit supplier Takata, in a widening of a scandal that has already led to the biggest auto recall in U.S. history, AFP reports.
The announcement came as Honda, Takata's top airbag client, warned its full-year net profit dropped by a third as it wrestles with mounting costs linked to an airbag defect blamed for at least 13 deaths and scores of injuries.
"On top of the 30 million Takata airbags already announced for a recall, we are going to recall an additional 21 million units globally," a Honda spokesman in Tokyo said Friday.
Takata is struggling to deal with a defect that can fire metal and plastic shrapnel from the airbag's inflator canister hurtling toward drivers and passengers when its deployed.
The Tokyo-based auto parts giant has been hit by lawsuits and regulatory probes over claims it hid flaws in its airbags for years. The scandal has affected about a dozen global automaker clients, also including Toyota and Volkswagen.
Investigators increasingly suspect that the chemical used to inflate Takata airbags can be unstable, especially in hot and humid conditions, and cause the inflator canister to rupture.
On Friday, Honda said its net profit in the fiscal year to March was down 32 percent from a year ago to 344.5 billion yen ($3.2 billion), which it blamed mainly on "quality-related costs" linked to the airbag crisis.
"We had thought that Honda was turning the corner on the negative impact of the airbag accidents but it appears to be hanging around," said Shigeru Matsumura, analyst at SMBC Friend Research Centre.
Takata this week logged an annual net loss of $120 million as U.S. auto safety regulators order a mounting number of recalls to deal with the problem.
Last week, Honda said two people died in Malaysia after Takata-made airbag inflators exploded, raising the global death toll to 13.
Most of the fatalities have been in the U.S., including a Texas teenager who died in March after her 2002 Honda Civic collided with another car, activating a defective Takata airbag.
"The science clearly shows that these inflators become unsafe over time, faster when exposed to humidity and variations of temperature," the U.S. National Highway Traffic Safety Administration said last week.
The first airbags covered in new U.S. recalls will be those in hot and humid climates which would have shorter lifespans -- generally the southern part of the country -- along with the oldest airbags in service in any region.
The Takata case constitutes the largest ever safety recall in U.S. history, the NHTSA said. Last year the agency slapped Takata with a record $200 million fine for providing inadequate and inaccurate information about the problem airbags to regulators.