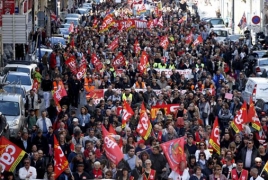 May 13, 2016 - 17:53 AMT
PanARMENIAN.Net - Riot police evicted dozens of people on Friday, May 13 from a building they took over in protest against labor law reforms that are provoking street demonstrations and strike calls across France, Reuters reports.
Police moved in at dawn, using a fire-engine ladder to get through the roof of a public hall in the western city of Rennes and flush out the protesters, some of whom had taken refuge on the roof itself.
After sometimes violent marches and 82 arrests on Thursday, Prime Minister Manuel Valls condemned rampagers who ransacked party offices and daubed them with anti-government graffiti and smashed the entire glass front of a train station in Nantes.
"These vandals are unbearable," Valls told reporters, adding that he was counting on the courts to deal firmly with them.
About 1,000 people have been arrested since protests began several weeks ago over the labor law reform, Interior Minister Bernard Cazeneuve said.
The protesters' anger is at government plans to make hiring and firing easier, in a flagship reform of President Francois Hollande, plagued by rock-bottom popularity ratings ahead of a May 2017 election.
There are calls for broader street protests next week and strikes by railway workers, dockers, truckers and airport and refinery workers.
"The government has public opinion against it, a majority of the labor unions against it and the youth movement against it," CGT union leader Philippe Martinez said.
Other CGT representatives called for rolling strikes from next Monday night, arguing that the labor law change could prompt employers to cut overtime pay.
Police themselves plan to protest next week over what they say is a rise in hostility toward them, despite having to work overtime as part of a tightening of security after Islamist militants killed 130 people in Paris in November.
Polls show as many as three in four people oppose the reform, which would allow employers to bypass national or sectoral obligations on pay and conditions by opting for in-house deals.
The last time France faced large-scale street protests was in 2011, when unions sought, but ultimately failed, to force then President Nicolas Sarkozy to withdraw a law obliging people to work longer for a pension.
Thursday's street marches mobilized tens of thousands of people, compared with hundreds of thousands in 2011.