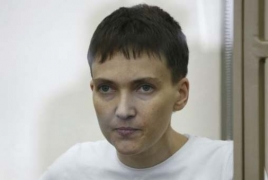 May 25, 2016 - 17:06 AMT
PanARMENIAN.Net - Russia on Wednesday, May 25 released Ukrainian pilot Nadezhda Savchenko as part of a swap for two Russian servicemen jailed in Ukraine, an official in the Ukrainian presidential administration said, according to the Associated Press.
Savchenko was being flown to Kiev aboard Ukrainian President Petro Poroshenko's plane, according to the official, who spoke to The Associated Press on condition of anonymity because he was not authorized to release the information.
Kremlin-funded television station RT, citing unidentified sources, reported that the two Russians also were released and were being flown to Moscow.
Savchenko was certain to be greeted by crowds of supporters in Ukraine, where her refusal to bend after nearly two years in Russian custody has made her a national hero. Poroshenko was to meet her at the Kiev airport and accompany her into the city, the official said, according to AP.
Savchenko was captured by Russia-backed rebels in eastern Ukraine in 2014 and sentenced in March to 22 years in prison for her alleged role in the deaths of two Russian journalists in the conflict zone.
The two Russians, Alexander Alexandrov and Yevgeny Yerofeyev, were captured last year. They acknowledged being Russian officers, but the Russian Defense Ministry claimed they had resigned from active duty.
They were tried in a Kiev court, which sentenced them to 14 years in prison after finding them guilty of terrorism and waging war in eastern Ukraine.
Both of the Russians submitted a petition to Poroshenko for a pardon, Alexandrov's lawyer Valentin Rybin told the state news agency Tass on Wednesday morning. He said the same procedure was underway in Russia and indicated that the swap was in the works.