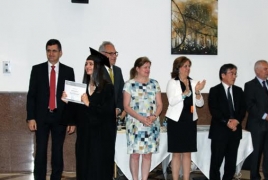 June 1, 2016 - 14:56 AMT
PanARMENIAN.Net - The Leadership School hosted a 2015-2016 graduation ceremony, with VivaCell-MTS General Manager Ralph Yirikian invited to deliver a speech.
Leadership School is anon-political and non-religious organization which seeks tosupport the development of future Armenian leadersin cooperation with prominent local and international leaders, thinkers and organizations.
"You step into a new path which offers millions of opportunities, challenges, choices and possibilities," Yirikian said as he addressed the students.
"All these things are thrilling and promising, but they require immense efforts, responsibility, hard work, ability to make the right decision, readiness to follow the values set. Being a leader has never been easy, because a leader sets examples, provides guidelines. This is a huge responsibility which makes people strong and careful. Having witnessed the enthusiasm of the students and the lecturers of the Leadership School, their dedication and energy, I can surely say that you have broad knowledge, skills, ideas and dreams to serve as tools necessary for overcoming the obstacles."
Yirikian has been a featured speaker at a number of academic, business and technology institutions and forums.
In more than 10 years, VivaCell-MTS has become popular not only as the telecommunications leader with the largest market share, but also the innovations leader. The Company was not only the first and only telecommunications operator to offer 4G services, but also the first to introduce and promote the concept of CSR as an essential part of corporate behavior. VivaCell-MTS has implemented numerous projects in a broad range of sectors thus contributing to the sustainability of these sectors and the country's economic development. The Company makes considerable investments into the implementation of innovative projects in the sectors of healthcare, culture, science, child care, environmental protection, education, and rural infrastructure.