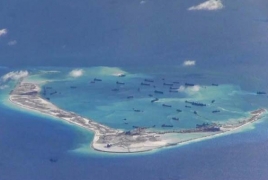 June 1, 2016 - 17:41 AMT
PanARMENIAN.Net - China's said on Wednesday, June 1 it welcomed a proposal by the incoming Philippine government for bilateral talks on the disputed South China Sea, Reuters reports.
China claims almost the whole of the South China Sea while the Philippines, Brunei, Vietnam, Malaysia and Taiwan have overlapping claims. The sea is rich in oil, gas and fish, and trade worth trillions of dollars passes through it each year.
Tension between the Philippines and China has risen as an international tribunal in the Hague prepares to deliver a ruling in the next few months in a case about the South China Sea lodged by Manila in 2013.
The Philippines is seeking a clarification of UN maritime laws that could undermine China's claims to 90 percent of the South China Sea. China has rejected the court's authority.
Philippines President-elect Rodrigo Duterte has backed multilateral talks to settle rows over the South China Sea that would include the United States, Japan and Australia as well as claimant nations, Reuters says.
He has also called on China to respect the 200 nautical mile Exclusive Economic Zone granted to coastal states under international law.
But he also said on Tuesday his country would not rely on long-term security ally the United States, signaling greater independence from Washington in dealing with China.
Duterte pick for foreign secretary, Perfecto Yasay, sounded a conciliatory note this week, saying he would like to resume bilateral talks with China.
Chinese Foreign Ministry spokeswoman Hua Chunying said she welcomed the comments and hoped the new Philippines government could return to a track of bilateral talks, appropriately handle disputes and work hard for the healthy development of ties.
China hopes to get relations with the Philippines back on track, President Xi Jinping told Duterte this week.