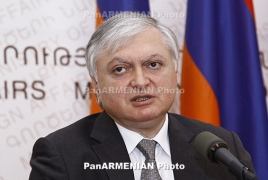 June 2, 2016 - 15:32 AMT
PanARMENIAN.Net - Armenia welcomes the German Bundestag's recognition of the Genocide, Foreign Minister Edward Nalbandian said Thursday, June 2.
The German Bundestag on Thursday adopted a resolution on the recognition and the condemnation of the Armenian Genocide.
"German President Joachim Gauck's statement on the centennial of the Genocide and Bundestag's resolution contribute not only to the recognition and condemnation of the Armenian Genocide, but also to the whole international community's struggle against genocides and crimes against humanity as such," Nalbandian said.
"While Austria and Germany – which were allied with the Ottoman Empire – acknowledge their complicity in the Armenian Genocide, the authorities of Turkey continue to adamantly deny the undisputable fact of the Genocide committed by the Ottoman Empire."
"The International community has been waiting for 101 years for Turkey to face its own history," Nalbandian added.
The vote was unanimous in supporting the resolution with just one MP voting against and another one abstaining.
Titled "Remembrance and commemoration of the Genocide of Armenians and other Christian minorities in the years 1915 and 1916," the resolution passed with support from all the parties in Parliament. It was put forward by Chancellor Angela Merkel's conservative bloc, their partners in the government, the Social Democrats, and the opposition Greens.