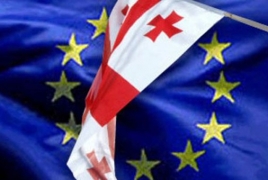 June 9, 2016 - 10:58 AMT
PanARMENIAN.Net - EU states' ambassadors on Wednesday put on hold plans to grant visa-free travel into the passport-free Schengen zone to Georgia, after France, Germany and Italy objected to moving ahead, EU Observer says.
The tree countries said No to the move at an EU ambassadors' meeting in Brussels on Wednesday, 8 June. They did it the same day that Georgian president Giorgi Margvelashvili was in the EU capital to lobby for a Yes.
Berlin said the German public was worried about a recent spate of home burglaries by Georgian criminal groups in Germany, diplomatic sources said.
It said Tbilisi must take action and the European Commission must report to what extent the problem exists in other EU countries before it can approve the visa waiver, EU Observer says.
It also said the European Parliament (EP) should first ratify a new "suspension mechanism" that would let EU states freeze waivers if lots of visitors overstayed their 90-day limit or started claiming asylum.
Home affairs ministers will discuss visa issues in Luxembourg on Friday. Foreign ministers will also discuss them on 20 June.