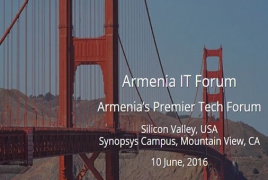 June 11, 2016 - 11:57 AMT
PanARMENIAN.Net - Leading members of the Armenian diaspora and those interested in technology companies and startups in Armenia convened on Friday, June 10 at the Armenia IT Forum at Synopsys in Mountain View.
The daylong gathering provides an opportunity to network, share ideas and identify investment opportunities in Armenia with CEOs, venture capitalists, academics, and entrepreneurs. The Forum is organized within the framework of the ArmTech Congress and held under the high patronage of the Prime Minister of Armenia.
Sponsors of the event include Microsoft, Hewlett Packard Enterprise, IBM, the Union of Information and Technology Enterprises, the Union of Employers of Information and Communication Technologies, and PicsArt, a photo app company with 65 million active users founded by two Armenian entrepreneurs. Organizers include the Government of the Republic of Armenia, ArmTech Congress, CEED, World Bank Group, Synopsys, and the Enterprise Incubator Foundation (EIF).
The four panel discussions at the Forum will address critical issues including:
- The IT Industry in Armenia Recent Developments and Success Stories
- Building an Ecosystem for Global Startups and Connecting to Global Markets
- Challenges and Opportunities of Investing in Armenia
- The Role of Education in Unlocking Startup Talent
"This year the forum will focus on the progress and successes of our organizations and startups, especially in the U.S. market," said Bagrat Yengibaryan Ph.D., Director of the EIF. "We're going to discuss the importance of education and explore the challenges for the further development of the IT sector in Armenia."