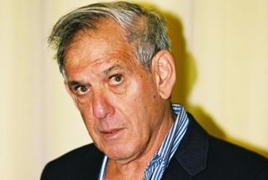 June 29, 2016 - 12:11 AMT
PanARMENIAN.Net - The Israeli Knesset will on July 5 hold a debate on the Armenian Genocide, historian and genocide scholar Yair Auron said in an interview with the Zoryan Institute.
According to him, Israel previously refrained from allowing a public debate to have a free vote on the subject of the Armenian Genocide for fear of alienating the Turkish government, a then key ally to Israel and the United States.
The July 5 debate comes almost a month after Germany's parliament voted to recognize the massacre of 1.5 million Armenians by Ottoman forces as genocide.
"When we look at the recent German recognition of the Armenian Genocide, a few lessons stand out. The modern Republic of Turkey is not the perpetrator state of the Armenian Genocide, but it is the legal inheritor of all rights and responsibilities of the Ottoman Empire. Rather than acknowledge that genocide, every successor administration of the Turkish Republic has gone out of its way to obfuscate and deny it. Moreover, it has used its considerable geo-political, military and economic leverage to coerce and co-opt other countries to go along with its denial policy," Auron was quoted as saying.
"It is past time that Israel officially recognizes the Armenian Genocide. Every year now, the Knesset debates this issue. The votes are there, but the government does not allow it to come to a vote. Let this year be different. Let the Knesset have a free vote on whether or not to recognize the Armenian Genocide."
Auron is an Israeli historian, scholar and expert specializing on Holocaust and genocide studies, racism and contemporary Jewry. He is a board member of The Zoryan Institute of USA & Canada.
The Zoryan Institute and its subsidiary, the International Institute for Genocide and Human Rights Studies, is the first non-profit, international centre devoted to the research and documentation of contemporary issues with a focus on Genocide, Diaspora and Homeland.