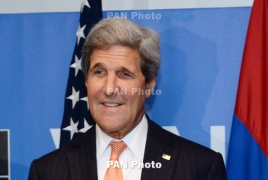 July 13, 2016 - 14:38 AMT
PanARMENIAN.Net - Frustrated by months of failure in Syria, the Obama administration is taking what might be its final offer to Moscow: Enhanced intelligence and military cooperation against the Islamic State and other extremist groups if Syria's Russian-backed president Bashar Assad upholds a ceasefire with U.S.-supported rebel groups and starts a political transition, the Associated Press reported Wednesday, July 13.
When Secretary of State John Kerry meets Russia's top diplomat and possibly President Vladimir Putin in Moscow later this week, Syria's civil war and Assad's future will top the agenda. Kerry is trying to reverse a trend in which he has hailed a series of agreements with the Russians only for them to fall short, according to officials with knowledge of internal American deliberations.
The officials said Kerry is dangling in front of the Kremlin Russia's long-sought requests for intelligence sharing and targeting assistance in return for Russia using its influence to end the fighting and start ushering Assad out of power. But Kerry will be wary about offering too much.
The talks in Moscow are scheduled fewer than three weeks before an August ultimatum for diplomatic progress.
"The target date for the transition is 1st of August," Kerry told reporters two months ago, hoping to get Russia and Syria to halt military operations. "So either something happens in these next few months or they are asking for a very different track."
The U.S. is now offering more robust military cooperation against IS and the Nusra Front, Syria's al-Qaida branch, and information to help Russia target affiliated militants. Kerry won't go as far as to suggest joint U.S.-Russian operations, according to the American officials, who weren't authorized to speak on the matter and demanded anonymity, the Associated Press says.
"We have teed up ideas to the Russians," State Department spokesman John Kirby told reporters Tuesday, saying the Moscow discussions would be an indicator of Russia's sincerity.