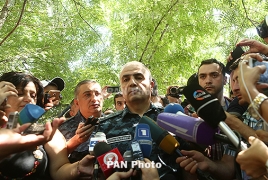 July 17, 2016 - 20:38 AMT
PanARMENIAN.Net - Armenia's Deputy Police Chief Hunan Poghosyan said that opposition activist Jirair Sefilian isn't involved in negotiations with the armed group that seized a police HQ in Yerevan and is hоlding officers inside hostage.
A group of armed people on Sunday, July 17 stormed the patrol service of the Armenian police and took everyone inside hostage. The group are members of the Sasna Tsrer movement and demand the release of Sefilian. The latter was arrested on June 20, as he and a group of people had planned to seize premises and communication facilities, including the Yerevan TV tower. One police officer was killed, and four more were wounded.
Poghosyan said there is no plan of bringing Sefilian to the scene for now.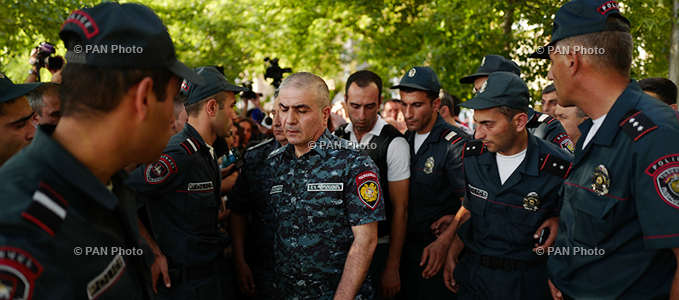 Also, he said, the members of the group are armed.
"They keep telling they have taken over the weapons at the department, but the reality is that they already carried armament when storming the HQ," he said.
According to him, there are four wounded officers, with the condition of the two of them assessed as critical, while that of the other two as serious.
Failing to give a precise number of gunmen inside the police department, Poghosyan said 6 officers are currently being kept hostage.
Read also:Gunmen seize police HQ in Yerevan: 1 killed, 4 wounded (Updating)