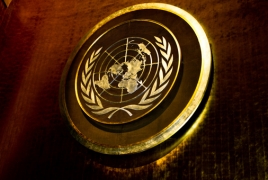 July 29, 2016 - 10:52 AMT
PanARMENIAN.Net - The United Nations has temporarily suspended aid deliveries in Nigeria's north-eastern state of Borno, the former stronghold of jihadists Boko Haram, after a humanitarian convoy was attacked, the UN children's agency UNICEF said on Thursday, July 28, The Guardian reports.
UNICEF said in a statement that unknown assailants attacked the convoy on Thursday as it returned to Maiduguri from delivering aid in Bama, injuring a UNICEF employee and an International Organization for Migration contractor.
"The United Nations has temporarily suspended humanitarian assistance missions pending review of the security situation," it said.
Nearly a quarter of a million children in Borno suffer from life-threatening malnourishment and around one in five will die if they do not receive treatment, UNICEF said earlier this month.
Médecins Sans Frontières said on Wednesday that severely malnourished children were dying in large numbers in north-east Nigeria, where food supplies are close to running out, The Guardian says.
By 2014, Boko Haram controlled territory around the size of Belgium in north-east Nigeria until most of it was recaptured last year by the Nigerian army and troops from neighboring countries.
More than 15,000 people have been killed and at least 2 million displaced by Boko Haram's insurgency in Nigeria. The group carries out suicide bombings in north-east Nigeria and neighboring Cameroon, Niger and Chad.