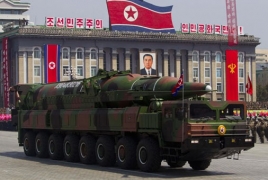 August 24, 2016 - 10:49 AMT
PanARMENIAN.Net - A North Korean ballistic missile fired from a submarine Wednesday, August 23 flew about 500 kilometers in the longest flight by that type of weapon, Seoul officials said, a range that can place much of South Korea within its striking distance, the Associated Press reports.
Seoul officials condemned the launch as an "armed protest" against the start of annual South Korean-U.S. military drills that North Korean calls an invasion rehearsal. The launch was also the latest in a series of missile, rocket and other weapon tests by North Korea, which is openly pushing to acquire a reliable weapon capable striking targets as far away as the continental U.S.
The missile fired from a submarine off the eastern North Korean coastal town of Sinpo reached into Japan's air defense identification zone, according to Seoul and Tokyo officials. The U.S. Strategic Command said it tracked the North Korean submarine launch of the presumed KN-11 missile into the Sea of Japan.
"This is an impermissible and outrageous act that represents a grave threat to the security of Japan and seriously undermines the peace and stability of the region," Japanese Prime Minister Shinzo Abe said, according to AP.
South Korea's Joint Chiefs of Staff said the launch showed an "improvement" in ability over previous similar missile tests.
The 500-kilometer distance is longer than ones recorded by other submarine-launched missiles launched by North Korea, and puts most of South Korea within its range if it is fired near the border, although North Korea already has a variety of land-based missiles that can strike South Korea and Japan.
Some civilian experts said they believe the North already has the technology to put warheads on shorter-range missiles that can strike South Korea and Japan.