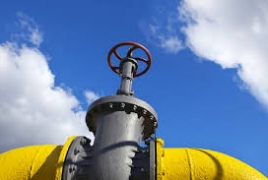 August 26, 2016 - 12:56 AMT
PanARMENIAN.Net - Russia and Belarus have reached a preliminary agreement on a new gas pricing mechanism for Minsk, Kommersant daily reported, citing sources.
Russia's formula for calculating gas price for Minsk will be based on rubles and average gas price in Russia and implies a gradual alignment of the cost of gas for the two countries by 2025.
Gas price for Minsk is expected to be set at 6,300 rubles ($97.36) per 1,000 cubic metres for the remainder of 2016, falling to around 6,000 rubles per 1,000 cubic meters in 2017.
Belarus currently pays around $132 per 1,000 cubic metres.
The new formula has yet to be agreed on a higher level, Kommersant says.
If the new terms are approved, Belarus will pay off its debt to Russia's Gazprom and Russia will fully restore oil supplies to Belarus which had been cut amid the gas price dispute.
In Armenia, the price for 1,000 cubic meters of gas was lowered months ago to AMD 146.700 against the current AMD 156.000 (a reduction of AMD 9.3 – about 2 cents – per 1 cubic meter) for people with a monthly consumption of up to 10.000 cubic meters of gas.
For those with a monthly consumption of 10 thousand cubic meters or more, the current price of $276.98 will be reduced to $257.56 (a reduction of some 20 cents per one cubic meter).