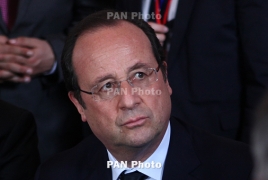 September 13, 2016 - 16:23 AMT
PanARMENIAN.Net - French President Francois Hollande said Tuesday, September 13 that security checks at Romanian airports can help Schengen, raising hopes that the East European country is closer to joining the passport-free area, the Associated Press reports.
Hollande noted Romania had implemented a system to check passengers flying from Romanian airports.
"It is an important structure for our security. For us it is an essential point in the fight against terrorism, and for this reason, there should be discussions in Brussels to see how Romanian airports can bring a contribution to the Schengen space in their efficiency," he said.
Romania has been trying to join Schengen for years, but has failed to secure unanimous agreement required from the 26 members, partly due to concerns about corruption.
Romanian President Klaus Iohannis greeted Hollande's comments positively, saying he felt Romania was supported by France in its bid to join the Schengen area, where there are no passport and other border controls between countries.
"Romania behaves like a de facto member of Schengen," Iohannis said, according to AP.
Speaking before an EU summit in Bratislava after Britain voted to leave the bloc, Hollande said: "Europe has to be a hope. If it is not a hope, it is no longer Europe. It was a hope for a long time for those in it. It's a market that opened, a currency, a peace, a capacity to have a have voice that is heard all over the world."
However, he added: "this hope has evaporated. We have to renew this hope through the young people of Europe, mobility, research, the possibility of developing, of having a job; that is the priority I will underscore in Bratislava."
Romania and France hope the high-profile visit will also boost trade and consolidate bilateral relations between the traditional allies. France has 450 enterprises and French companies provide 100,000 jobs, while France is the first choice for Romanian students who choose to study at foreign universities, Hollande said.
Hollande laid a wreath at the tomb of the unknown soldier early Tuesday, noting that it was the first state visit by a French president since Jacques Chirac came to Romania in 1997.