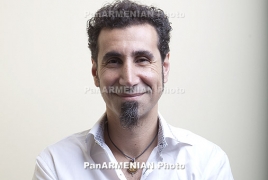 September 21, 2016 - 14:49 AMT
PanARMENIAN.Net - Frontman of the rock band "System of a Down" Serj Tankian and a number of prominent Diaspora-based Armenian cultural and social figures have launched the petition Justice Within Armenia on Change.org on the 25th anniversary of Armenia's independence.
"We should take the opportunity to celebrate some of the successes of this small but beautiful nation while also tackling the troubling issues at hand," Tankian said in a Facebook post.
"Independence means little when a large segment of the public are discontent. That is why myself and a group of friends have drafted a statement of support for the people of Armenia and their call to action for positive civic changes and reforms. Please have a look at the below campaign link on change.org and sign on if you agree."
"Justice Within Armenia is a coalition of concerned Armenians around the world who believe in standing in solidarity with the people of Armenia and being present as eyewitnesses and monitoring free and fair elections while actively engaging with the Armenian populace in contributing to the present and future of our nation. We need to visualize an egalitarian state worthy of the resilience of our people and achieve it. Given our unique values and character, Armenia can and should become a country of opportunity, creativity, democracy and hope in a region rife with turmoil. The alternative is unthinkable," the petition reads.
Among the initial signatories are Tankian, Vahe Berberian, Atom Egoyan, Arsinee Khanjian, Alexis Ohanian, Ara Oshagan, Carla Garapedian, Chris Bohjalian, Eric Bogosian, Hrant Tokhatyan, Robert Guediguian and many others.