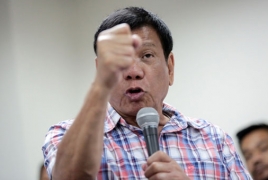 September 22, 2016 - 17:07 AMT
PanARMENIAN.Net - The Philippine President says he will invite the UN chief and European Union officials to investigate his bloody anti-drug crackdown, but only if he can question them in public afterward to prove their human rights concerns are baseless, the Associated Press reports.
President Rodrigo Duterte disclosed the offer in a speech Thursday, September 22 in which he again lashed out at critics of his deadly crackdown, including President Barack Obama and European countries. He accused them of hypocrisy for raising concerns about his anti-crime campaign while launching military strikes that killed innocent people in the Middle East.
More than 3,000 suspected drug dealers and users have been killed since June and more than 600,000 others have surrendered for fear of being killed in the crackdown. Despite growing alarm, Duterte says he won't stop the campaign.