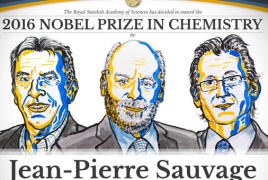 October 5, 2016 - 14:25 AMT
PanARMENIAN.Net - The 2016 Nobel Prize for Chemistry has been awarded for the development of the world's smallest machines, BBC News reports.
Jean-Pierre Sauvage, Sir J Fraser Stoddart and Bernard L Feringa will share the 8m kronor (£727,000) prize for the design and synthesis of machines on a molecular scale.
They were named at a press conference in Sweden.
The machines conceived by today's laureates are a thousand times thinner than a strand of hair.
They could be used to deliver drugs within the human body - for instance, applying them directly to cancer cells.
The prize recognises their success in linking molecules together to design everything from motors to a car and muscles on a tiny scale.
"They have mastered motion control at the molecular scale," said Olof Ramstrom, from the Nobel Committee, according to BBC.
Reacting to the award, Prof Feringa said: "I don't know what to say, I'm shocked. And my second remark was: 'I'm a bit emotional about it'."
Jean-Pierre Sauvage was born in 1944 in Paris, France. He is currently emeritus professor at the University of Strasbourg and director of research emeritus at the French National Center for Scientific Research (CNRS).
Sir Fraser Stoddart was born in 1942 in Edinburgh, UK. He is currently affiliated to the Northwestern University, in the US.
Bernard L. Feringa born in 1951 in Barger-Compascuum, the Netherlands. He is a professor in organic chemistry at the University of Groningen, the Netherlands.