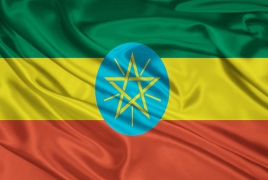 October 10, 2016 - 11:25 AMT
PanARMENIAN.Net - Ethiopia declared a six-month state of emergency on Sunday, October 9 following months of violent anti-government protests, according to an official statement released on state media, AFP reports.
"The state of emergency was declared following a thorough discussion by the Council of Ministers on the loss of lives and property damages occurring in the country," Prime Minister Hailemariam Desalegn said.
The declaration marks a further hardening of the government's position after months of protests in different parts of Ethiopia.
These have been met with a strong security response that has left hundreds dead, according to human rights groups.
"We put our citizens' safety first. Besides, we want to put an end to the damage that is being carried out against infrastructure projects, health centres, administration and justice buildings," Hailemariam said on state media, adding the state of emergency was effective from October 8.
Ethiopia is facing its biggest anti-government unrest in a decade, from the majority Oromo and Amhara ethnic groups which feel marginalised by a minority-led government.
Internet access has been restricted in recent days to prevent protesters from organising gatherings, AFP says.
In the wake of the state of emergency declaration, residents of the capital Addis Ababa and regional towns reported more police on the streets but little other change.