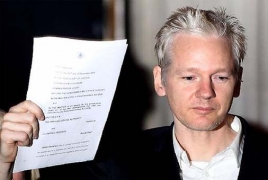 November 15, 2016 - 09:36 AMT
PanARMENIAN.Net - Six years after the Swedish authorities opened an investigation into a rape accusation made against Julian Assange, the WikiLeaks founder, he was questioned about the matter on Monday, November 14, according to the New York Times.
The questions were prepared by prosecutors in Sweden, where an arrest warrant for Assange was issued in 2010, but were posed by a prosecutor from Ecuador under an agreement the two countries made in August. Ecuador granted Assange political asylum in 2012, and the interview occurred at the Ecuadorean Embassy in London. Assange has lived in the embassy since June 2012 to avoid extradition to Sweden over the rape accusation.
WikiLeaks has published damaging and confidential information from the United States and many other governments. Before last week's presidential election, WikiLeaks distributed hacked emails from the Democratic National Committee, while Assange has excoriated Hillary Clinton, the Democratic nominee.
No formal charges have been filed against Assange, a 45-year-old native of Australia. He denies the rape accusation, originally made in 2010, but has refused to go to Sweden to face questioning because he says he fears he would then be extradited to the United States. Swedish officials say those fears are ungrounded.
On Monday morning, a Swedish deputy chief prosecutor, Ingrid Isgren, and a police inspector, Cecilia Redell, arrived at the Ecuadorean Embassy, in the Knightsbridge section of West London, as journalists gathered outside.
The Swedish officials, who did not answer questions, also planned to ask Assange's consent to take a DNA sample.
In a phone interview with Radio Sweden, Assange's Swedish defense lawyer, Per E. Samuelsson, said that he had been shut out of the meeting, and that only the Swedish officials, along with an interpreter, were present. He questioned the validity of the interview in the absence of Assange's lawyers.
"For some reason that I am not aware of, I am not on the list of approved persons that Ecuador has established," Samuelsson told Radio Sweden. "Our Ecuadorean defense lawyer is trying to find out right now why I am not on the list. He thinks I will be invited, so I am on standby here at the hotel to go to the interview as soon as he gives the go-ahead."
Samuelsson added: "I, as his Swedish defense lawyer, must be present. I am the one who knows the case."
Samuelsson did not respond to messages left on his cellphone on Monday. An official at the embassy, María Cristina Muñoz, declined to answer questions about the proceedings.
The interview with Swedish officials was the latest chapter in a bizarre diplomatic and legal standoff.
In August 2015, prosecutors dropped their investigation into two possible charges — one of sexual molestation and one of unlawful coercion — because they had run out of time to question Assange. But he still faces the more serious accusation of rape.
In October 2015, the London police ended their round-the-clock surveillance outside the embassy, citing the drain on public resources, but they said they remained ready to arrest Assange if he tried to leave.
"After UN & court findings condemning 6 years of abuses by Sweden against Assange, Sweden finally takes his statement for the first time ever," WikiLeaks said on Twitter on Monday.
It was in part a reference to a February report by a United Nations human rights panel, which found that Assange's continued stay at the embassy amounted to being "arbitrarily detained in violation of international law." It is not clear, however, what court findings the statement referred to. British and Swedish courts have repeatedly upheld the extradition order.