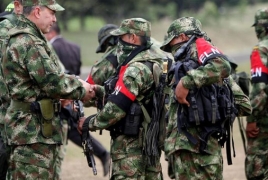 November 25, 2016 - 10:37 AMT
PanARMENIAN.Net - Colombia's President Juan Manuel Santos and Marxist FARC rebel leader Rodrigo Londono signed a revised peace accord on Thursday, November 24 in a far more sober ceremony than a first deal rejected last month by millions at a plebiscite, Reuters reports.
As they inked the pact with a pen made from a bullet at a historic Bogota theater, onlookers chanted "We did it!"
The new accord to end 52 years of war in Latin America's fourth-largest economy was put together in just over a month after the original pact was narrowly and unexpectedly defeated in an October 2 referendum for being too lenient on the rebels.
The government and Revolutionary Armed Forces of Colombia (FARC) worked together in Cuba for four years to negotiate an end to the region's longest-running conflict that has killed more than 220,000 and displaced millions in the Andean nation.
"It's final!" said Santos, standing before white banners of peace and Colombia's red, yellow and blue flag.
"I invite you to leave decades of violence forever in the past, to unite for all of us, for Colombia, for this dear nation, and to work together for reconciliation around shared ideals of peace."
Opposition leader and former President Alvaro Uribe spearheaded the push to reject the original accord and wanted deeper changes to the new version, Reuters says.
Opponents to the first deal are furious Santos will ratify the new deal in Congress instead of holding another vote and is urging street protests.