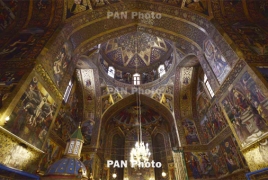 November 29, 2016 - 12:10 AMT
PanARMENIAN.Net - Despite the Iran's best efforts to stop the spread of Christianity, a large underground church movement is growing, FOX News said in an article.
Hundreds of Iranian citizens have been converting to Christianity, and many are being baptized in large ceremonies in underground churches held in private homes across the country. This month, Christian ministry ELAM estimated that more than 200 Iranian and Afghans were secretly baptized in a service just across the Iranian border.
"It's an astronomical increase," Mani Erfan, CEO and founder of CCM Ministries, which has been involved in Iran's underground church movement for more than two decades, told FoxNews.com. "And it's been predominately young people. We call it an awakening."
Erfan says much of Iran's young population has grown tired of the regime's oppressive religious rule, which often distorts Islamic teachings.
Iran reserves parliament seats for Jewish and Christian lawmakers and permits churches, Roman Catholic, Armenian Orthodox and others, as well as synagogues and Zoroastrian temples that are under sporadic watch by authorities. Religious celebrations are allowed, but no political messages or overtones are tolerated. In past years, authorities have staged arrests on Christians and other religious minorities.
"The youth have become restless and have looked toward an alternative to the regime and Islam," he said. "The youth find Western culture and the Christian church very appealing.
"It's become a counter-culture," he added. "A counter-revolution to the [1979 Iranian] Revolution."