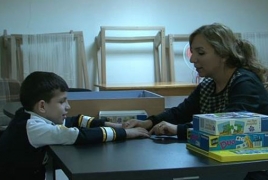 December 2, 2016 - 18:10 AMT
PanARMENIAN.Net - VivaCell-MTS is showing support to repatriated Armenian children with disabilities who faced hardships and insecurity in Syria due to the ongoing civil war. Before their relocation to Armenia, these children were taken care of by the Arevik center in Aleppo. In Armenia, they were once again reunited with the efforts of the Aleppo Compatriotic Charitable Organization, which initiated and launched the Arevik-Armenia center two years ago, following the successful 13-year experience of the center in Syria.
With the help of a team of devoted people and as a result of productive cooperation, Aleppo CCO managed to gain success within a short period of time. Today, Arevik-Armenia provides free psychological assistance to Syrian-Armenians with mental and physical disabilities. The center also organizes educational trainings of mathematics, painting, music, physical trainings, as well as theater therapy, speech development and handicraft workshops.
The successful cooperation with the private sector plays an important role in ensuring the continuous operation of the center and its ongoing multi-functional activities. In 2016, the center was included in the social investments program implemented by VivaCell-MTS in Armenia. Thanks to this, the Aleppo Compatriotic Charitable Organization was able to cover the rental expenses for Arevik-Armenia, the utility payments and the food expenditures for the center's children, as well as take care of the necessary expenses for organizing cultural trips for them.
The Arevik-Armenia center's team of experts manages to alleviate the everyday problems of the Syrian-Armenians with special needs and contribute to their involvement in the civil life.