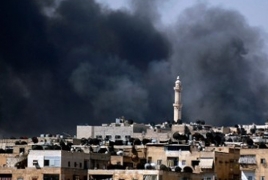 December 6, 2016 - 10:32 AMT
PanARMENIAN.Net - Russia and China on Monday, December 5 vetoed a UN Security Council resolution calling for a seven-day ceasefire in the embattled Syrian city of Aleppo, AFP reports.
Venezuela also voted against the text, while Angola abstained. The 11 other council members voted in favor.
The vote marked the sixth time Russia has blocked a council resolution on Syria since the conflict began in March 2011, and the fifth for China.
A close ally of Syrian President Bashar al-Assad, Moscow had expressed strong reservations about the text, the subject of weeks of negotiations.
In an eleventh-hour effort, Russia tried to postpone the vote until at least Tuesday, when the Americans and Russians are set to meet in Geneva.
But the text's main backers -- Paris, London and Washington -- decided to go ahead anyway.
Russia says the Geneva talks will concern a plan for all rebel fighters to withdraw from eastern Aleppo, under siege by the regime. But the rebels have rejected the plan.
The two sides "are close to an agreement on the basic elements," Russia's UN ambassador Vitaly Churkin said.
But deputy US envoy Michele Sison suggested there was no deal, accusing Churkin of using a "made-up alibi."
"We will not let Russia string along the Security Council," she added.
"We will continue bilateral negotiations (with Russia) to relieve the suffering in Aleppo, but we have not reached a breakthrough because Russia wants to keep its military gains."