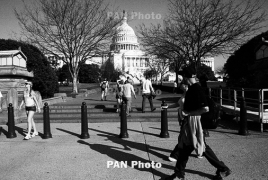 December 8, 2016 - 11:39 AMT
PanARMENIAN.Net - Life expectancy in the United States dropped last year for the first time since the peak of the HIV/AIDS crisis more than 20 years ago, as deaths rose from nearly every major cause, federal data showed Thursday, December 8, according to AFP.
The total U.S. population's life expectancy in 2015 was 78.8 years, a decrease of 0.1 year from 2014, said the report by the National Center for Health Statistics.
Deaths from eight of the top 10 causes mounted, including spikes in accidental deaths among children and deaths from Alzheimer's disease in the elderly.
The report did not delve into the reasons for the across-the-board decline in life expectancy from birth, but experts pointed to economic struggles, drug addiction and the increasing burden of dementia on an aging population as potential factors.
Across the nation, 86,212 more people died in 2015 than a year earlier.
"This is unusual," said lead author Jiaquan Xu, an epidemiologist at the NCHS, which is part of the U.S. Centers for Disease Control and Prevention.
"2015 is kind of different from every year," Xu told AFP.
It "looks like much more death than we have seen in the last few years."
The last time life expectancies at birth dropped for the total U.S. population was in 1993, a year when the deaths from AIDS reached a peak in the United States, compounded by a bad flu year that resulted in more flu and pneumonia deaths, he said.
Homicide and accidental death rates also went up that year.
For 2015, the data also showed a 1.2 percent increase in the death rate for the total population, and this "rose significantly for the first time since 1999," noted the report.