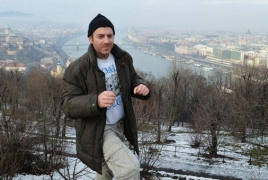 December 19, 2016 - 12:59 AMT
PanARMENIAN.Net - Israel on Sunday, December 18 asked Belarus to not hand over to Azerbaijan a popular Ukrainian-Israeli travel blogger it arrested last week at the request of the South Caucasus nation, The Times of Israel reports.
Azerbaijan is seeking Alexander Lapshin's extradition to face criminal charges for travelling to Nagorno Karabakh without his visit coordinating with the authorities in Baku.
But on Sunday, the Israeli foreign ministry asked Belarus not to go ahead with the extradition, the ministry said.
The arrest warrant said Lapshin was wanted for "violating the state border" of Azerbaijan.
But according to reports in Israel, Lapshin published Russian-language blogs critical of Azerbaijani president Ilham Alyev.
Last Wednesday, Lapshin said that he and his wife were arrested by Belorussian authorities shortly after arriving in Minsk.
"At this moment I was arrested by the police in Minsk at the request of Azerbaijan. I'm at the Piersamajskaja station in Minsk," he wrote in a December 13 Facebook post.
His arrest came as Prime Minister Benjamin Netanyahu visited Azerbaijan, a rare visit for an Israeli head of government.