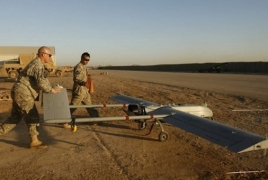 December 22, 2016 - 14:07 AMT
PanARMENIAN.Net - Millions of dollars' worth of U.S.-supplied drones that Kiev had hoped would help in its war against Russian-backed separatists have proven ineffective against jamming and hacking, Ukrainian officials say, according to Reuters.
The 72 Raven RQ-11B Analog mini-drones were so disappointing following their arrival this summer that Natan Chazin, an advisor to Ukraine's military with deep knowledge of the country's drone programme, said if it were up to him, he would return them.
"From the beginning, it was the wrong decision to use these drones in our (conflict)," Chazin, an advisor to the chief of the general staff of Ukraine's armed forces, told Reuters.
The hand-launched Ravens were one of the recent highlights of U.S. security assistance to Ukraine, aiming to give Kiev's military portable, light-weight, unarmed surveillance drones that were small enough to be used widely in the field. They are made by AeroVironment (AVAV.O).
But they appear to have fallen short in a battle against the separatists, who benefit from far more sophisticated military technology than insurgencies the West has contended with in Afghanistan, Iraq or Syria.
Whether President-elect Donald Trump's administration might seek to provide Kiev anything more robust, however, is unclear, given his stated desire to improve ties with Russia and prioritise the fight against Islamic militants. U.S. restrictions on technology exports could also limit new aid.
The Air Force command of Ukraine's armed forces acknowledged to Reuters that the Ravens supplied by the United States had a fundamental drawback: Russia and the separatist forces it supports can intercept and jam their video feeds and data.
"The complex is analogue, therefore command channels and data are not protected from interception and suppression by modern means of electronic warfare," it said.
U.S. officials, speaking on condition of anonymity, acknowledged that Russia's electronic warfare capabilities were far more sophisticated than thought when the conflict began and that both the U.S. and Ukrainian militaries were adapting.
Asked about Ukraine's reaction to the Ravens, one official said it took a considerable amount of time for the drones to reach Ukraine and that by then "they were much less effective than they would have liked, than we would have liked."
AeroVironment referred questions from Reuters about the Raven contract to the U.S. Army.
The U.S. Army told Reuters it still uses Ravens but has upgraded to digital versions.