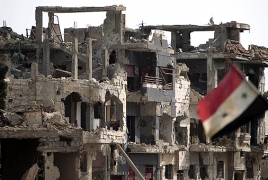 December 22, 2016 - 14:17 AMT
PanARMENIAN.Net - France and Britain are pushing the UN Security Council to ban the sale of helicopters to Syria and to impose the first sanctions over the use of chemical weapons in the five-year war, Reuters reports.
A draft resolution obtained by AFP on Wednesday, December 21 calls for asset freezes and travel bans against four Syrian officials and 10 entities including a Syrian research center tied to chemical weapons development.
Diplomats however said the measure is certain to be vetoed by Russia, Syria's ally, which has blocked council action on Syria with six vetoes so far.
A vote at the council is expected as early as next week.
A joint investigation by the United Nations and the Organization for the Prohibition of Chemical Weapons (OPCW) found that several units of the Syrian army had used toxic weapons against three villages in northern Syria in 2014 and 2015.
It was the first time an international probe blamed President Bashar Al-Assad's forces after years of denial from Damascus.
Government helicopters flying from two regime-controlled air bases dropped chlorine barrel-bombs on the villages of Qmenas, Talmenes and Sarmin, the panel's latest report said.
Chlorine use as a weapon is banned under the Chemical Weapons Convention, which Syria joined in 2013 under pressure from Russia.
British Ambassador Matthew Rycroft said there must be "significant measures" to follow up on the panel's findings and called for sanctions.
"We'll be pursuing that with our council colleagues and circulating a draft shortly," he told reporters.
Russia however has said that the report's findings are "inconclusive" and not strong enough to warrant sanctions.
Under the proposed measure, the council would demand that all UN member-states "prevent the direct or indirect supply, sale or transfer" to the Syrian military and government of "any helicopters, or related materiel including spare parts."
A UN committee that oversees a sanctions blacklist for Al-Qaeda and the Islamic State would also be tasked with adding names of those responsible for a mustard gas attack in Syria in 2015.
The UN panel concluded that IS fighters were behind that attack.
The mandate for the joint investigation was recently extended for another year to allow it to investigate chemical attacks that have been reported in Syria this year.
The OPCW is investigating more than 20 alleged cases of use of toxic chemicals in Syria since August, the director general told AFP last month.