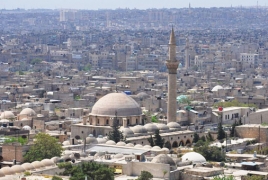 December 22, 2016 - 18:16 AMT
PanARMENIAN.Net - More than 4,000 fighters left rebel-held areas of Aleppo, the Red Cross said Thursday, December 22 in the "last stages" of an evacuation clearing the way for Syria's army to retake the city, AFP reports.
A week into the rebel withdrawal from the east of Syria's second city, the evacuation of fighters and civilians from the one-time opposition stronghold appeared to be reaching its final hours.
The loss of east Aleppo marks the biggest defeat for Syria's rebellion in more than five years of civil war and a major victory for President Bashar al-Assad, who on Thursday hailed his allies Moscow and Tehran.
"The liberation of Aleppo is not only a victory for Syria but also for those who really contribute to the fight against terrorism, notably Russia and Iran," state news agency SANA quoted Assad as saying.
"It is also a defeat for countries hostile to the Syrian people who used terrorism to achieve their interests," Assad said after a meeting in Damascus with Hossein Jaberi Ansari, an Iranian deputy foreign minister.
The evacuation effort has been hampered in recent days by heavy snowfall and freezing temperatures -- leaving evacuees waiting in unheated buses for hours -- but aid workers said it had resumed in earnest.
"Overnight between Wednesday and Thursday, in one of the last stages of the evacuation, more than 4,000 fighters were evacuated in private cars, vans, and pick-ups from eastern Aleppo," said Ingy Sedky, the spokeswoman in Syria for the International Committee of the Red Cross.