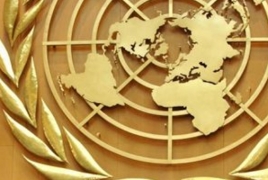 January 9, 2017 - 13:01 AMT
PanARMENIAN.Net - The United Nations has classified Estonia, Latvia and Lithuania as Northern European countries instead of Eastern European, the Estonian World says.
According to the United Nations, Northern European countries are Denmark, Estonia, Finland, Iceland, Ireland, Latvia, Lithuania, Norway, Sweden and the United Kingdom.
Eastern European countries are, according to the classification, Belarus, Bulgaria, the Czech Republic, Hungary, Moldova, Poland, Romania, Russia, Slovakia and Ukraine.
There has been some confusion as per when exactly the United Nations took the decision to classify Estonia and the Baltic states as Northern European countries.
The Latvian MEP and the country's former foreign and defence minister, Artis Pabriks, commended the decision on Twitter on January 8, 2017. "This is where we belong," he tweeted, after finding out.
The Estonian MP, Marko Mihkelson, echoed this in a Facebook post. "It's well logical in both geographical and geopolitical sense," he said, adding that this reclassification may make it easier for international journalists if they need to position Estonia geographically.
Since Estonian politicians and many Estonia's international friends have for years argued that the country is in fact, "Nordic", the news about the classification started to make rounds in the Estonian media. It then emerged, however, that the UN has classified Estonia, Latvia and Lithuania as Northern Europe since at least 2002.