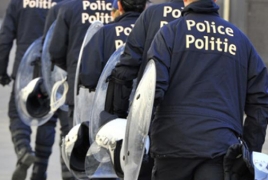 January 24, 2017 - 15:49 AMT
PanARMENIAN.Net - The Islamic State suicide bombers who attacked Brussels airport last year targeted passengers travelling to the United States and also Jewish people, AFP reports citing several sources.
The Belgian-led investigation believes a check-in counter for an American carrier was one of the targets in the March 22, 2016 attacks, the sources said on condition of anonymity.
They also suspect that travellers to Israel may have been in the crosshairs, and that airport security camera footage shows one bomber apparently pursuing Hasidic Jews seconds before one of the blasts.
Islamic State (IS) bombers Najim Laachraoui and Ibrahim El Bakraoui killed 16 people at Zaventem airport. Around an hour later Bakraoui's brother Khalid attacked a metro station near EU headquarters, killing another 16.
One source close to the investigation told AFP, which contacted investigators in several countries, that one of the airport bombers "attacked the Delta Airlines check-in".
"We know they wanted to target Americans," said the source, who asked not to be named. "It's clear they had quite specific targets."
Asked if these targets included the check-in counter for a flight to Israel, he replied: "We know they were obsessed with the Israelis too."
The possibility that they targeted Russian travellers was an "option" that had to be clarified, he said.
There were casualties from at least 40 nationalities in the Brussels attacks. Four Americans were killed at the airport and several injured, while two Israelis aged 23 and 28 were treated in Jerusalem after the attacks.