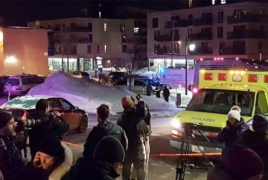 January 30, 2017 - 10:14 AMT
PanARMENIAN.Net - The shooting at a Quebec mosque during Sunday, January 29 night prays which reportedly killed several people was a "terrorist attack on Muslims", said Canadian Prime Minister Justin Trudeau, according to Reuters.
"We condemn this terrorist attack on Muslims in a center of worship and refuge," Trudeau said in a statement.
Five people were killed after gunmen opened fire in a Quebec City mosque, the mosque's president told reporters on Sunday, Reuters says. A witness told Reuters that up to three gunmen fired on about 40 people inside the Quebec City Islamic Cultural Center.
Death toll from Quebec City mosque attack stands at six with eight injured, AFP said.
"Why is this happening here? This is barbaric," said the mosque's president, Mohamed Yangui.
Quebec police said there were many victims and deaths, but did not confirm the death toll. They said two people had been arrested, but there were no immediate details on the suspects.
A witness said a heavily armed police tactical squad was seen entering the three-storey mosque. Police declined to say whether there was a gunman inside the mosque at the time.
Police tweeted later that the situation was under control and that the mosque had been secured and occupants evacuated.
Yangui, who was not inside the mosque when the shooting occurred, said he got frantic calls from people at evening prayers. He did not know how many were injured, saying they had been taken to different hospitals across Quebec City.
"Tonight, Canadians grieve for those killed in a cowardly attack on a mosque in Quebec City. My thoughts are with victims & their families," Trudeau tweeted earlier in the night.
The shooting came on the weekend that Trudeau said Canada would welcome refugees, after U.S. President Donald Trump suspended the U.S. refugee program and temporarily barred citizens from seven Muslim-majority nations from entering the United States on national security grounds.
Canada's federal Liberal legislator Greg Fergus tweeted: "This is an act of terrorism -- the result of years of demonizing Muslims. Words matter and hateful speeches have consequences!"