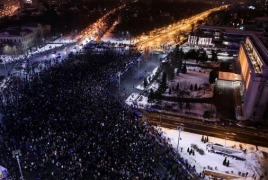 February 2, 2017 - 10:48 AMT
PanARMENIAN.Net - More than 250,000 Romanians demonstrated on Wednesday, February 1 against a government decree decriminalising some graft offences, seen as the biggest retreat on reforms since the country joined the European Union in 2007, Reuters reports.
Romania's top judicial watchdog, the Superior Magistrates' Council (CSM), earlier in the day filed a constitutional court challenge to the decree unveiled by the new Social Democrat government of Prime Minister Sorin Grindeanu.
The number of protesters rose to a new high in the evening, reaching 130,000 to 150,000 outside the cabinet building in Bucharest.
Another 100,000 to 150,000 were estimated by riot police to have joined similar rallies in 55 other towns and cities.
The rally in the capital subsided peacefully by 2200 GMT, but after people left the square, a group of about 300 football ultras came in and threw fireworks and stones at riot police. The police dispersed them with tear gas. Two policemen and two protesters were slightly hurt by stones, the emergency service said.
The decree that triggered the nationwide protests was approved by the cabinet on Tuesday evening.
"Repeal it, then leave," protesters shouted. "Thieves, thieves." Many waved Romanian national flags.
"Our chances are small but it is important to fight," said Gabriela Constantin, a 36-year-old architect.
If enforced, as planned, within 10 days, the decree would, among other things, decriminalise abuse-of-power offences in which the sums involved are less than 200,000 lei (£40,827).