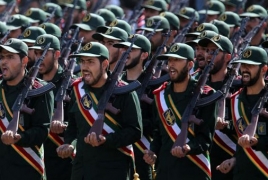 February 8, 2017 - 12:53 AMT
PanARMENIAN.Net - U.S. President Donald Trump's administration is considering a proposal that could lead to potentially designating Iran's powerful Islamic Revolutionary Guard Corps (IRGC) as a terrorist organization, Reuters reports citing U.S. officials familiar with the matter.
The officials said several U.S. government agencies have been consulted about such a proposal, which if implemented would add to measures the United States has already imposed on individuals and entities linked to the IRGC.
The IRGC is by far Iran's most powerful security entity, which also has control over large stakes in Iran's economy and huge influence in its political system.
Reuters says it has not seen a copy of the proposal, which could come in the form of an executive order directing the State Department to consider designating the IRGC as a terrorist group. It is unclear whether Trump would sign such an order.
The White House did not immediately respond to a request for comment. Iran denies any involvement in terrorism.
Several draft orders on other topics have been circulated among U.S. agencies, only to be rejected or postponed by the Trump administration. Reuters reported last week that officials were debating whether to declare the Muslim Brotherhood a terrorist organization, but that decision appears to have been indefinitely postponed.
Naming Iran's single most powerful military and political institution as a terrorist group could have potentially destabilizing effects, including further inflaming regional conflicts in which the United States and regional arch-rivals blame Iran for interference. Iran denies those allegations, Reuters says.
It would also likely complicate the U.S. fight against Islamic State in Iraq, where Shi'ite militias backed by Iran and advised by IRGC fighters are battling the Sunni jihadist group.