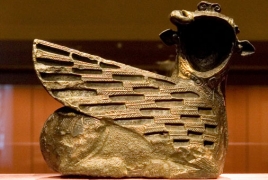 February 9, 2017 - 14:00 AMT
PanARMENIAN.Net - Some objects in a trove of Persian, Sumerian, Assyrian and other antiquities found last year in a truck could be from as early as 900 B.C., and the whole collection may be worth up to $690,000, Hungarian police said Wednesday, February 8, according to The Associated Press.
Bronze artifacts, including a helmet, small bells and horse tack, were likely from the grave of a high-ranking military officer from Urartu, also called the Kingdom of Van, which was situated in the Armenian Highland, the Bacs-Kiskun County police department said in a statement.
The 115 objects, also including 14 Roman gold coins and some high-quality forgeries, were found during a routine search on September 29 of a truck going to Lithuania. None of the recovered objects was found to be from a museum or private collection.
Experts said that that such a large assortment of objects had never been recovered before from an Urartu grave and speculated that other artifacts also taken from the grave, such as the officer's weapons and shields, may have been sold separately by the finders.
Police have recommended that the 50-year-old Turkish driver, who said a man in Istanbul paid him 300 euros ($320) to take the loot to Poland, be charged with receiving stolen goods.
The haul is being kept for now at the Museum of Fine Arts in Budapest.