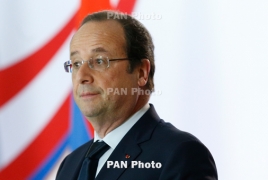 February 15, 2017 - 10:43 AMT
PanARMENIAN.Net - French President Francois Hollande on Tuesday, February 14 called for "justice" over the alleged rape of a black youth with a police baton, an incident that has sparked 10 nights of rioting and more than 200 arrests, AFP reports.
"Justice must be served," Hollande said during a visit to Aubervilliers, located in the tough Seine-Saint-Denis region northeast of Paris where a 22-year-old youth worker, identified only as Theo, was assaulted on February 2.
But Hollande also condemned the ensuing riots, which have shaken the belt of gritty suburbs surrounding Paris.
The injuries sustained by Theo during a stop-and-search operation in the suburb of Aulnay-sous-Bois have sparked clashes with police and arson attacks across the impoverished, ethnically-mixed housing estates that ring the French capital.
The interior ministry said 245 people had been arrested over the protests which began on February 4. Several dozen have been taken into custody.
Theo suffered severe anal injuries requiring hospital treatment during his arrest by four officers, one of whom allegedly sodomised him with a truncheon.
One officer has been charged with rape and the three others with assault. All four have been suspended from the force.
Hollande said France was determined to "show that we are capable of living together in a peaceful society, but where respect is the rule and where we must be firm towards those who diverge from this principle".