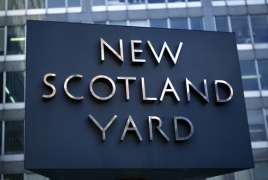 February 23, 2017 - 16:53 AMT
PanARMENIAN.Net - The first woman was named Wednesday, February 22 to head London's Metropolitan Police Service in its 187-year history, USA Today reports.
Cressida Dick, 56, was appointed by Queen Elizabeth II, following a recommendation by British Home Secretary Amber Rudd.
The Metropolitan Police Service, also known as Scotland Yard or the Met, is the biggest and most powerful police force in the United Kingdom with more than 43,000 employees.
Dick, currently a director general at the Foreign Office and a former assistant commissioner of the police force, said she was "thrilled and humbled" to be picked for the post. She will take over after the current commissioner, Sir Bernard Hogan-Howe, retires next week.
"This is a great responsibility and an amazing opportunity," she said.
Dick first worked at the Met in 1983 before leaving to join Thames Valley Police in southeastern England. She rejoined the Met as a commander in 2001 and has held senior roles, including assistant commissioner for specialist crime, assistant commissioner responsible for fighting terrorism and deputy commissioner.
"Cressida Dick is an exceptional leader, and has a clear vision for the future of the Metropolitan Police and an understanding of the diverse range of communities it serves," Rudd said in a statement. "She now takes on one of the most demanding, high-profile and important jobs in UK policing, against the backdrop of a heightened terror alert and evolving threats from fraud and cyber crime."
Rudd, in recommending the new commissioner to the queen, also considered the opinion of London Mayor Sadiq Khan.
"On behalf of all Londoners, I warmly welcome Cressida to the role and I very much look forward to working with her to keep our capital safe and protected," Khan said.
Criticizing her appointment was the family of Jean Charles de Menezes, a Brazilian electrician who was shot dead at a London subway station two weeks after the July 7, 2005, terror attacks on the city's transport system. Dick had commanded the operation in which police mistook de Menezes for a suicide bomber but who was innocent of any wrongdoing.
De Menezes' cousins, Patricia Armani and Alex Pereira, said her appointment was "offensive" to his memory, the BBC reported.
"Our family is disappointed that she has now been appointed for such an important role at a time there are many more threats to public security in the form of terrorism," Armani said in a statement carried by the broadcaster.
"What are the guarantees that more innocent people won't be killed by the police in London?" she added.