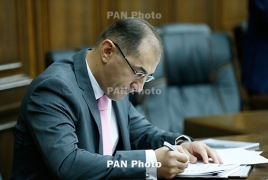 February 23, 2017 - 16:18 AMT
PanARMENIAN.Net - Armenia may aspire to economic growth rates of 4-5% in 2018, finance minister Vardan Aramyan told reporters on Thursday, February 23.
"We need to have the economy grow at a faster pace than the projected 3,2%," he said.
"I can't divulge specific figures but what I can say is that we are currently developing a medium term expenditure framework (MTEF) for the next three years to strive for more development space."
"We can aspire to 4-5% GDP growth next year, at the very least," Aramyan added.
In response to the reporters' remarks suggesting that economic figures have continuously declined since president Serzh Sargsyan took office in 2008, Aramyan said:
"2002-2008 was a growth period for the whole world, accompanied with strong capital inflows, as a result of which nօt just Armenia but neighboring Georgia and Azerbaijan as well ensured stable economic growth. Following that period was a cycle of recession. Economic cycles usually last 6-11 years globally - recession, stabilization and growth. We have to consider factors before trying to bend over backward to achieve 6-7% growth."
Minister of economic development and investments Suren Karayan declared earlier that Armenia is projected to register a 3,2% economic growth in 2017.