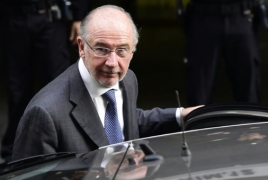 February 23, 2017 - 18:44 AMT
PanARMENIAN.Net - Former IMF chief Rodrigo Rato was handed a jail sentence of four years and six months Thursday, February 23 for misusing funds when he was the boss of two Spanish banks, AFP reports.
Spain's National Court, which deals with corruption and financial crime cases, said he had been found guilty of "embezzlement" when he headed up Caja Madrid and Bankia, at a time when both groups were having difficulties.
Rato, who is also a former Spanish economy minister, was on trial with 64 other former executives and board members at both banks accused of misusing 12 million euros ($12.7 million) between 2003 and 2012 -- sometimes splashing out at the height of Spain's economic crisis.
They were accused of having paid for personal expenses with credit cards put at their disposal by both Caja Madrid and Bankia, without ever justifying them or declaring them to tax authorities.
According to the indictment, Rato maintained the "corrupt system" established by his predecessor Miguel Blesa when he took the reins of Caja Madrid in 2010.
He then replicated the system when he took charge of Bankia, a group born in 2011 out of the merger of Caja Madrid with six other savings banks, prosecutors said.
Blesa was sentenced to six years in jail.
Rato had always denied any wrongdoing and said the credit cards were for discretionary spending as part of executives' pay deal.