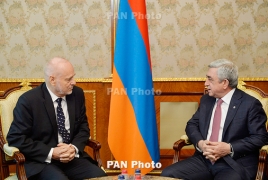 March 4, 2017 - 15:06 AMT
PanARMENIAN.Net - Armenia expects reliable and impartial assessment of electoral processes by the OSCE Office for Democratic Institutions and Human Rights (ODIHR), president Serzh Sargsyan said Saturday, March 4.
Sargsyan was meeting with the chief of the OSCE/ODIHR Jan Petersen in Yerevan to discuss the upcoming elections to the National Assembly.
He said the country attaches great importance to the activity of monitoring missions before and during the parliamentary elections.
"We consistently study the remarks and assessment of monitoring missions, trying to implement the proposals they make," Sargsyan said, citing the adoption of Armenia's Electoral Code as a result of cooperation with various parties.
The president said that Armenia's authorities are ready to collaborate with all the missions, including the OSCE/ODIHR, to organize elections in line with international standards.
He added that the country expects the ODIHR mission to present reliable and impartial assessment of electoral processes in Armenia.
Petersen said, in turn, that the mission is monitoring Armenian elections for the 11th time this year, hailing cooperation with the authorities, political parties and other groups.
The OSCE/ODIHR on February 20 launched its observation mission for the Armenian parliamentary elections, slated for April 2.