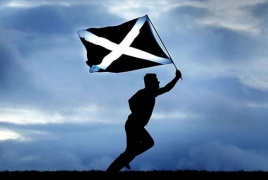 March 15, 2017 - 17:24 AMT
PanARMENIAN.Net - A petition to stop Scottish First Minister Nicola Sturgeon from calling another independence referendum has passed the 100,000 mark, meaning Parliament now has to debate it, RT reports.
The petition calls on Westminster to block Sturgeon from triggering a repeat of the 2014 vote as it claims Scotland is "suffering hugely" from the leader's focus on getting independence.
Sturgeon announced on Monday, March 13 she will be calling for a second independence referendum between autumn 2018 and spring 2019 as she claims Westminster's plan to go for a 'hard Brexit' will "damage the economy and change the very nature of our society and country."
As 62 percent of Scottish voters cast ballots to stay in the EU, the first minister said she has a duty to stand up for Scotland's interests. She said she would seek approval in the Scottish parliament next week for another referendum and secure the country's future membership of the EU.
She claimed it would give the Scottish people the chance to have a say on their destiny.
"Whatever path we take, it should be one decided by us, not for us," Sturgeon said.
A House of Commons spokesman said all petitions that reach the 10,000-signature threshold will be reviewed, unless they have recently been review, they are to be reviewed in the future or the subject is unsuitable for Parliament.
"The committee will consider all petitions that have received 100,000 signatures by Friday afternoon at its subsequent meeting.
"The committee meets on Tuesday afternoons," he told STV News.
"The government responds to all e-petitions that reach 10,000 signatures. It should respond to all petitions that have reached this threshold within 21-days."
Scottish Conservative MSP Annie Wells said the 100,000-strong petition is a testimony to Scottish people's strong opposition to another referendum.
"The fact so many signatures have been gathered in a couple of days demonstrates the strength of feeling on this matter," Wells was reported saying on STV.
"Scots don't want separation, and they don't want to be dragged back into a bitter and divisive referendum campaign by the SNP."
The Scottish National Party (SNP) leader is determined to go through with the referendum after Prime Minister Theresa May's announcement that the country will no longer retain access to the EU's single market post-Brexit, one of Sturgeon's key requests.
While saying she had genuinely tried to negotiate with Westminster over the terms of Brexit, Sturgeon claimed the PM had failed to move "an inch in pursuit of compromise or agreement," and that compromise had been met by a "brick wall of intransigence."
The first minister needs government consent to trigger another referendum.
Although she did not entirely reject the idea, May derided the proposal for another independence vote, suggesting it will only cause "more uncertainty and division," and that Scotland has more important things to focus on instead.
"The tunnel vision that the SNP has shown is deeply regrettable. It sets Scotland on a course for more uncertainty and division, creating huge uncertainty," the PM said.
"This is at a time when the Scottish people, the majority of the Scottish people, do not want a second independence referendum.
"Instead of playing politics with the future of our country the Scottish government should focus on delivering good government and public services for the people of Scotland. Politics is not a game."
Her view echoes that of Scottish Conservative leader Ruth Davidson, who accused Sturgeon of ignoring Scotland's will and "doubling down to division and uncertainty."
"People have said time and again they do not want to go back to the division of a second referendum.
"Nicola Sturgeon promised the 2014 referendum would be 'once in a generation,'" the BBC reported Davidson saying.
"Today she has ignored the majority in Scotland who do not want a referendum and has decided instead to double down on division and uncertainty."