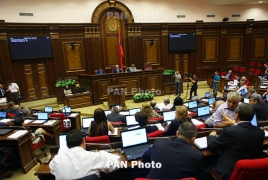 April 4, 2017 - 11:31 AMT
PanARMENIAN.Net - The Republican Party of Armenia (RPA) will have 55 delegates in the 6th convocation National Assembly, NA chief of staff Hrayr Tovmasyan said.
Based on results calculated in all the 2009 polling stations, the Republican party leads with 49.12% of votes (771 247 ballots), followed by the Tsarukyan bloc with 27.32% (428 965), YELQ with 7.77% (122 049) and the ARF Dashnaktsutyun with 6.57% (103 173). Voter turnout stood at 60.86% on Sunday, April 2.
Given the the procedure of distributing mandates among national minorities, Tovmasyan said RPA will get 58 MP seats. Once seats are allocated, however, the actual number of RPA lawmakers will stand at 55.
"28 members from the party proportional list and 27 others from the open list will get the 55 seats," Aysor.am cited Tovmasyan as saying.
Commenting on other parties and alliances who also made it to the parliament, the chief of staff said Tsarukyan bloc will get 30 parliamentary seats, YELQ bloc and ARF Dashnaktsutyun will have nine and eight seats, respectively.
The parliament will thus have 105 seats overall, Tovmasyan added.
Seats are allocated to parties using the share of the vote at the national level, with half awarded to those in the national list and half to those who receive the most preference votes in the district lists. Four seats are reserved for national minorities (Assyrians, Kurds, Russians and Yazidis), with parties having separate lists for the four groups.