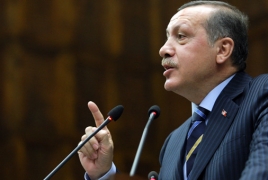 April 17, 2017 - 14:05 AMT
PanARMENIAN.Net - Turkish President Recep Tayyip Erdogan took just minutes to insist his country could bring back the death penalty after appearing to win a referendum on his powers, The Express reports.
With 98 per cent of the votes counted many now fear Erdogan has been given permission to shape Parliament to his wishes.
According to the agency, Yes stands at 51.49%.
The Head of the Turkish Electoral Board said unofficial results show 1.25 million votes between yes and no.
There are 600,000 votes yet to be counted.
The ruling AK Party began celebrating early, despite the tight race.
Erdogan said he will discuss the death penalty with the Prime Minister. He said in a televised speech in Istanbul: "If it [a parliament bill] comes in front of me, I will approve it.
"But if there isn't support (from the opposition in parliament)... then what shall we do?
"Then we could have another referendum for that."
A win for Erdogan will represent one of the most dramatic overhauls of the country's democratic system since the republic was founded in 1923.
The yes vote will also mean Erdogan can abolish the post of prime minister - a role he had in 2003.
Immediately after he believed he had secured enough to win, Erdogan said: "With the people, we have realised the most important reform in our history.
"Turkey for the first time in its history has decided with the will of the parliament and its people on such an important change."