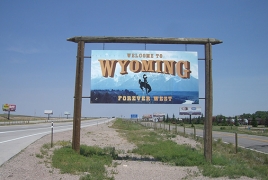 April 22, 2017 - 11:10 AMT
PanARMENIAN.Net - In a letter dated April 21, 2017 and addressed to the Armenian National Committee of America Western Region (ANCA-WR), Wyoming Governor Matthew H. Mead has recognized the Armenian Genocide and praised the work of Armenian American grassroots, ANCA said.
"The atrocities of both the Armenian and Jewish Holocausts were unimaginable," reads Governor Mead's letter, "but it is important for all to remember – history must not repeat itself."
The letter also recalls a meeting with senior ANCA-WR staff earlier this year, when Executive Director Elen Asatryan and Community Development Coordinator Simon Maghakyan visited Cheyenne, adding that "The work of the Armenian National Committee is inspiring." Referencing the upcoming April 23 commemoration in Denver, Governor Mead concludes his letter with, "My thoughts are with you as you gather for the Colorado State Capitol Armenian Genocide Commemoration." The full letter is here.
"We thank the Governor of the Great State of Wyoming for standing on the right side of history and adding his voice to the ongoing need to recognize and commemorate the Armenian Genocide," remarked ANCA-WR Chair Nora Hovsepian. "This recognition is a tribute to the memory of our ancestors and a celebration of the brave work of many Wyomingites who supported the national Near East Relief effort of building and operating 400 orphanages for over 132,000 Armenian children who survived the genocide. Last but not least, this recognition is a testament to the tireless work of our grassroots activists and dedicated staff," continued Hovsepian.
45 U.S. states have so far recognized the killing of 1.5 million Armenians at the hands of the Ottoman Empire as genocide: Alaska, Arizona, Arkansas, California, Colorado, Connecticut, Delaware, Florida, Georgia, Hawaii, Idaho, Illinois, Kansas, Kentucky, Louisiana, Maine, Maryland, Massachusetts, Michigan, Minnesota, Missouri, Montana, Nebraska, Nevada, New Hampshire, New Jersey, New Mexico, New York, Dakota, Tennessee, Utah, Vermont, Virginia, West Virginia, Washington, Wisconsin.