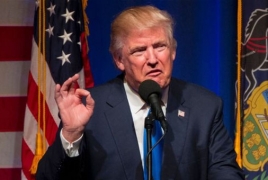 April 24, 2017 - 20:06 AMT
PanARMENIAN.Net - President Trump on Monday, April 24 marked the Ottoman Turks' century-old massacre of 1.5 million Armenians, but declined to label it a genocide, keeping with the practice of past administrations, The Hill reports.
"Today, we remember and honor the memory of those who suffered during the Meds Yeghern, one of the worst mass atrocities of the 20th century," Trump said in a statement. "I join the Armenian community in America and around the world in mourning the loss of innocent lives and the suffering endured by so many."
Previous presidents, including former President Obama, also refused to call the mass killings a genocide. Obama, however, had promised during his election campaign to use the term, while Trump never made such a pledge.
Trump's statement is an important gesture to Turkey, a NATO ally and key partner in the fight against the Islamic State in Iraq and Syria.
The Turkish government has long resisted the genocide label for the actions of the Ottoman forces in 1915, but Armenian-American groups have long urged U.S. presidents to change course. More than 80 lawmakers recently sent a letter to Trump pressuring him to use the term.
Trump's statement acknowledged the heated debate over the term genocide.
"We must remember atrocities to prevent them from occurring again," he said. "We welcome the efforts of Turks and Armenians to acknowledge and reckon with painful history, which is a critical step toward building a foundation for a more just and tolerant future."
Trump has tried to forge a closer bond with Turkish President Recep Tayyip Erdoğan, even phoning him last week to congratulate him on a contested referendum that was criticized as an authoritarian power grab.
The White House later said the two leaders mostly discussed joint counterterrorism efforts.